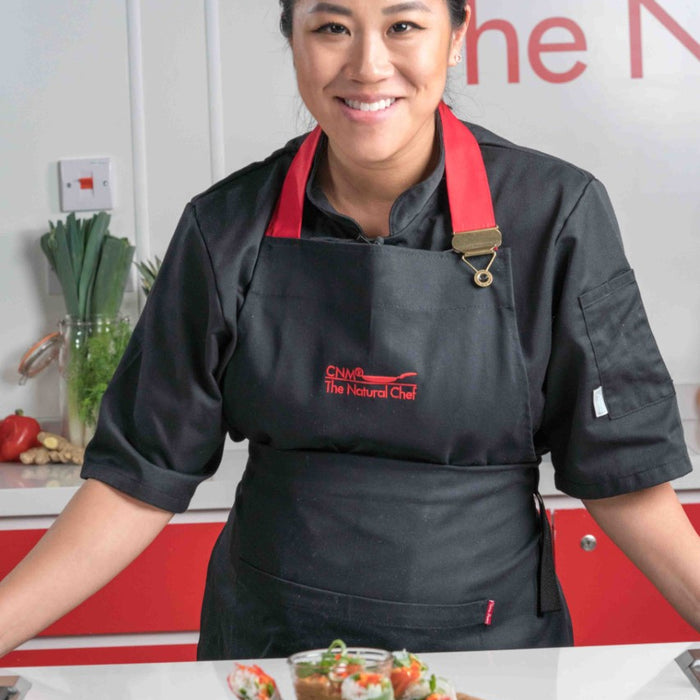 Farmacy x Natural Chef
Keeping It Natural In The Kitchen
Combining teaching about good nutrition with teaching chef-standard culinary skills, the Natural Chef course run by the College of Naturopathic Nutrition (CNM) will elevate your understanding of how you can use food as medicine so you really can become your own Kitchen Doctor.
You won't just learn what looks good on the plate and tastes good on the palette, you'll also discover what feels good to the body and how natural food choices help support optimum health and functioning, leading to better digestion, better sleep and, crucially, less stress!
Natural chef students learn first (and in depth) how the body works and how the pairing of specific ingredients can be used to, for example, support optimum health before heading into the kitchen to study menu development, knife skills and food photography. There are classes on nuts, seeds, herbs and spices as well as fermentation, baking and therapeutic juices and students complete their course by studying food therapeutics, which means learning how to tailor and create recipes for specific health concerns and conditions.
CNM has been offering nutrition-based courses to students who want to deepen their own understanding of wellness, as well as those who want to qualify and become practitioners  themselves for over two decades and is now world-renowned. Students on both the Natural Chef and the Vegan Natural Chef diploma courses can learn online or in-person at the London-based HQ which boasts a state-of-the-art professional kitchen and a culinary herb garden.
Accredited by the Independent Cookery School Association (ICSA) the Natural Chef courses are recognised and respected industry-wide with graduates going on to luminous careers as cookery instructors, recipe writers, retreat chefs, cookbook authors and even new restaurant owners!
Course Overview:
 Location: In-class (London)
Length of study: 9-12 months, 520 hours, part-time
How the body works: 60 hours
Nutrition for everyday living: 60 hours
Kitchen: 140 hours + 160 hours home assignments
Internship: 100 hours
CNM Diploma: Dip Natural Chef / Dip Vegan Natural Chef
Find out more: https://www.naturalchef.com/cooking-course/#contactfooter
---